Description
Well! Reflections on the Life and Career of Jack Benny is a collection of rare and delightful essays and personal reminiscences on perhaps the greatest comedian who has ever lived. Jack Benny's impact on the world of entertainment was profound, and the ripples of his influence are still expanding today.

Jack gave the world a tremendous amount of laughter and pleasure. His work demands--and deserves--continued scrutiny and analysis, which the writers of this volume are honored to provide.
"Jack Benny had style...He stood straight and walked kind of sideways as if he were being gently shoved by a touch of genius."
-- William Saroyan

Michael Leannah is a teacher and a writer. One of his special interests is Old-Time Radio. His radio scripts have won national awards and have been used in performances across the country.
Or buy from Amazon: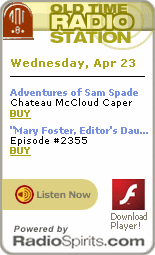 Reviews (1)