Description
Finally, a biography of one of the funniest, most overlooked comediennes of the 20th century. The star of television's I Married Joan and film classics Hold That Ghost, Show Business, Thin Ice and many more, very little has been documented about Joan's comical career - until now.
---
"Hold That Joan" provides an intriguing story of her legacy, very much recommended reading."
-- Midwest Book Review
"I've read hundreds of film books, but those written by Ben Ohmart are something special. He writes with energy and wit. Even his synopses for forgotten B-movies seem fresh and exciting."
-- Lon Davis, author of Silent Lives
---
Irreverent and Fast-paced Book Reflects Lady Comic's Own Life
In some respects, Ben Ohmart's short biography of Joan Davis' life and career is as fast-paced, informal and irreverent as Joan Davis herself. During the converging "gold ages" of radio, film and television, the comedic Ms. Davis seemed an agreeable and ubiquitous figure, in part, perhaps, because laughter seemed critically important during tough times and because the comedienne performed her chores with obvious zest and vitality.
The author follows a traditional linear approach in Hold That Joan, touching very briefly on Davis' origins and then segueing into her vaudeville days and from there into film, radio and television. A lengthy list of radio, film and television credits is tucked in at the end of the volume.
Ohmart makes no secret of his admiration for the extraordinary talents of his subject. In the introduction, the author states quiet simply, "To me she was funnier than Lucy, one of the greatest comediennes filmdom has ever captured…." The comparison with Lucille Ball was always a source of contention for Davis. Jim Backus, who starred with Davis in the 1952-1955 television series, I Married Joan, once wrote that "Lucille Ball was to Joan Davis what Moriarty was to Sherlock Holmes." I Married Joan premiered exactly one year to the day after I Love Lucy. For some of us who actually remember the series, the opening signature always seemed something of a dig at Lucy. Viewers were assured each week that they were about to see "America's favorite comedy show, starring America's queen of comedy, Joan Davis." Lucy and many critics might have disagreed with ht royal pecking order, but after all it was Joan's show.
Despite his best efforts, the author is able to provide readers with only a glimpse of the performer behind the public façade. So much of Joan Davis' biography has been shrouded in mist due to a succession of tragedies in the early 1960s. In September 1960, fire destroyed a portion of Joan's home claiming many photos and other keepsakes from her career. Six months later, Davis suffered a fatal heart attack at the age of 53. In 1963, another fire took the lives of Joan's mother, daughter and two grandchildren. In rapid succession Joan, the people closest to her and the memories and keepsakes of a successful career were all wiped away – the key elements upon which biography is built. Hold That Joan represents the first aggressive attempt to piece together Joan Davis' life from what remains – the sometimes contradictory public record. For the interested fan, this work is a good starting point. For anyone wanting more, there is the considerable body of Joan's work: the radio, film and television appearances. With a little effort many of these performances still be accessed and enjoyed.
- Gary Coville, Radiogram
---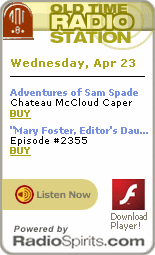 Reviews (2)